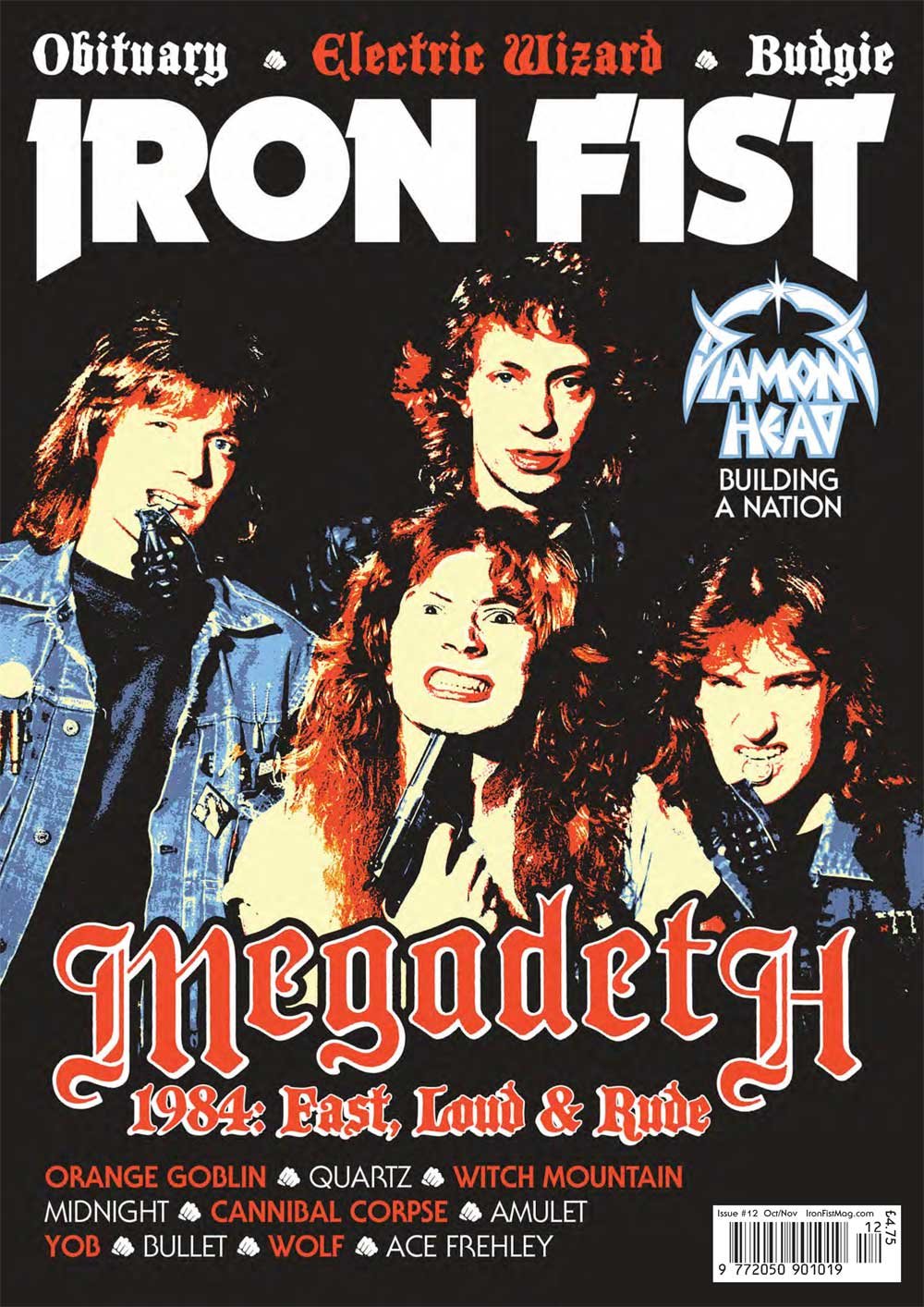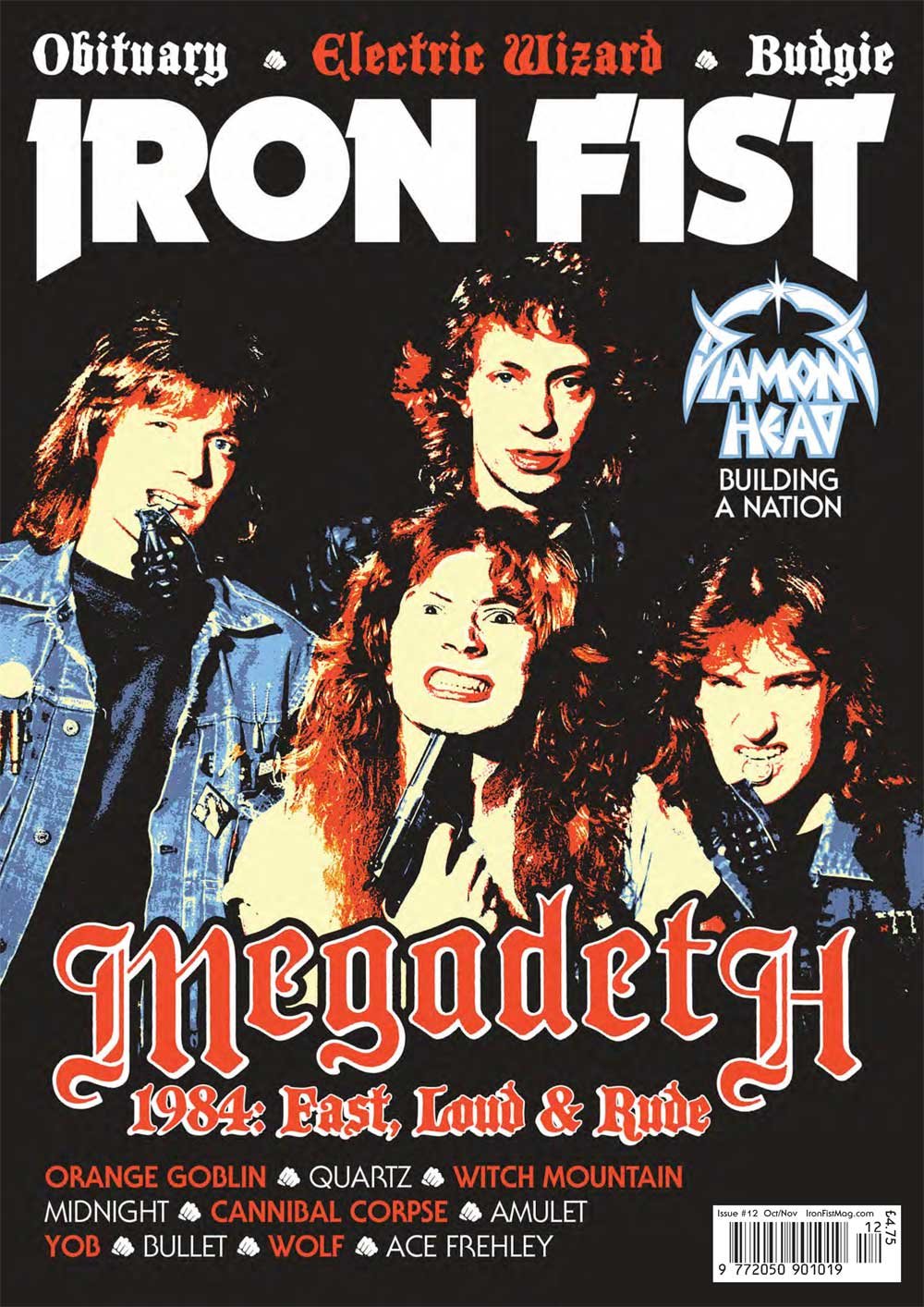 Issue 12
£6.50 / On Sale
Twin innovators who forged metal in their own wayward images with nary a thought for either compromise or common sense, BUDGIE and DIAMOND HEAD were enormous influences on the early days of Metallica, with Dave Mustaine even claiming that it was his love of the former that sealed the deal when it came to his gig with the Four Horsemen. Yet, as Diamond Head's Brian Tatler confirms, they both might have been forgotten had it been for the aforementioned San Fran saviours. Never fear; interviews with both Tatler - who takes us back to the making of the debut 'Lightning To The Nations' - and Budgie frontman Burke Shelley in our second anniversary issue mark the perfect reminder of a maverick spirit that embodies why we started Iron Fist in the first place.
Acrimoniously ejected from Metallica in 1983, it didn't take long for guitarist Dave Mustaine to saddle up and form MEGADETH with a glint of revenge in his eye. By May 1985 he had delivered the ultimate comeback in the form of 'Killing Is My Business... And Business Is Good', with more spite, more speed and more "state of the art heavy metal"than the majority of that era's rivetheads could believe. With the album reissued this month, Jim Martin talks to Dave Mustaine, Dave Ellefson and man-on-the-scene Brian Lew about that missing year – 1984 – and how one of metal's most controversial and provocative icons got back to business.
Proud as ever of being a British magazine, we also talk to outlaw institutions ELECTRIC WIZARD and ORANGE GOBLIN on both their legacies and their futures in the wake of their brand new material, and keep on the doom path by documenting a plethora of treats from YOB, IDES OF GEMINI, ORDER OF ISRAFEL and WITCH MOUNTAIN.
Not content with that, to mark our two year milestone, we also ticked another wishlist box and spoke to ACE FREHLEY about going back to space for his latest album, and talked to two veterans of American death metal – OBITUARY and CANNIBAL CORPSE – about their new records and how they're still finding fresh corpses to mutilate more than two decades after forming.
With LIVE EVIL FESTIVAL just around the corner, we also go back in time with QUARTZ, one of the forgotten gems of the NWOBHM era and also investigate new NWOBHM worshippers, AMULET, as well as talk to two Swedish bands who've been keeping the spirit of traditional heavy metal alive impervious to fashion for well over a decade; WOLF and BULLET. Staying in Sweden, we go to the boozer with crust-metal warriors MATYRDOD whilst elsewhere we tackle the mighty black 'n' roll mayhem of Ohio maniacs MIDNIGHT and Austrian black metal pioneers ABIGOR.
There's also our regular Black Horizons section, which this issue gets the frontline news on a new live album from SATAN, new "ventures" from STENCH, memories of Metallica fandom from ENGLISH DOGS, and yet another band from BARD FAUST. Into Battles this month are from DROWNED, TOWERS OF FLESH, SATURN and more, and there's the biggest reviews section to date; 11 whole pages of records and reissues devoured by our esteemed wrecking crew.
Iron Fist issue 12 is out on October 17th and is will also be available digitally for all you modern metal maniacs.







OR PURCHASE PRINT VERSION FROM DROP DOWN BELOW