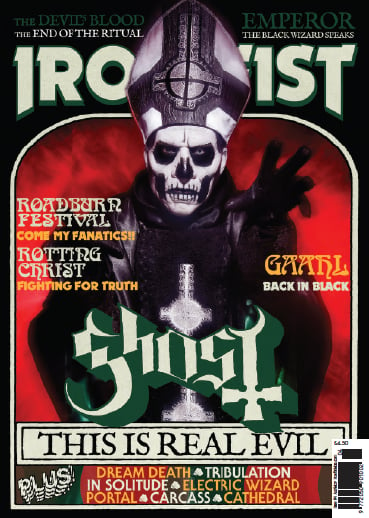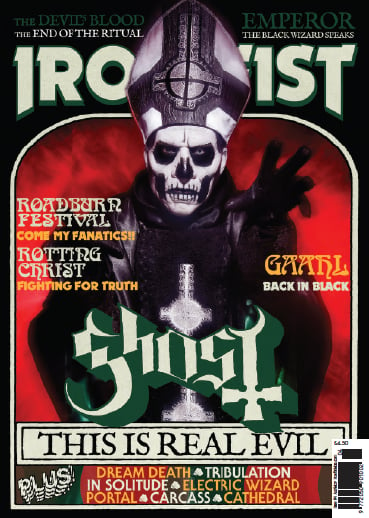 Issue 4
£6.50 / On Sale
It's apt that issue 4 of Iron Fist came out in that twilight zone between the beginning of Spring and Easter, a time of death and rebirth.
Because that's what this issue feels like. When we came up with the idea for Iron Fist we knew we would give it a shot at three issues, see what the reaction was and who knew? We might not have even made it this far. But you, the readers, have been so supportive and it's thanks to you that there is an issue 4, and will be an issue 5 and beyond. We owe you. Remember this is as much your zine as ours so get yourself onto our Facebook page and tell us what bands you want to see interviewed in future tomes.
This is also the most personal issue of the mag so far. On January 22, The Devil's Blood announced they were calling it a day, and as one of my favourite modern bands I was obviously crushed by the news. But after talking to their founder and architect Selim Lemouchi, he offered the opportunity to give Iron Fist the most definitive interview about their split and give us some hope about future projects. On a similar note, Ghost also talked to us about their incredible rise to infamy – from underground sensation to mainstream rock stars. In the interview with Iron Fist we talk about the old days (you know, way back in 2010) when they were playing The Underworld in Camden and putting out demos on MySpace (man, is that the new "retro"?) and how they've not changed their original manifesto of spreading their gospel to as many people as they can. Incidentally, we just saw them at Brixton Academy, playing to a packed out crowd of rabid fans – they might not exactly be an underground band but they have infiltrated the masses in such a sinister fashion we can't help but applaud them.
The other week, our brilliant designer, Adam Zaars, was in town with his band Tribulation. Their new slice of occult death metal is out now on Invictus Records and they razed the Boston Arms in North London to the ground with live renditions of those new hymns. And the night before, new hyped-up horror heathens Uncle Acid & The Deadbeats played their first ever show and we were there to witness it. Both bands are interviewed in this issue and both talk about their unhealthy obsession with macabre movies.
Speaking of which, Electric Wizard are curating a day of horrid flicks at Roadburn Festival set to a soundtrack by the likes of Niklas Barker from Anekdoten and Attila Csihar and we spoke to them about what they've got up their sleeves for this and their day of music; The Electric Acid Orgy. But not only that, we interviewed most of this year's must-see Roadburn line-up, including Dream Death, Ihsahn, Witchsorrow, Jess & The Ancient Ones, Seremonia, Moss, Amenra and Pallbearer.
But that's not all – we also interviewed Carcass about their comeback, Cathedral about their demise, Bolt Thrower about their upcoming tour of America, Gaahl about his return to black metal as well as Portal, Devil, Rotting Christ, Hate Meditation, In Solitude, Svartidaudi, Tormented and much more.
All this, packed into 116 pages of perfect-bound beauty.
Also available digitally:
Phone
Tablet
OR PURCHASE PRINT VERSION FROM DROP DOWN BELOW