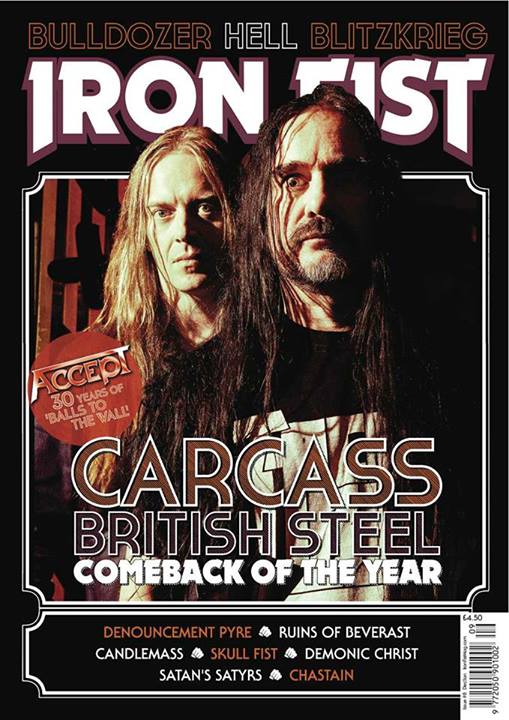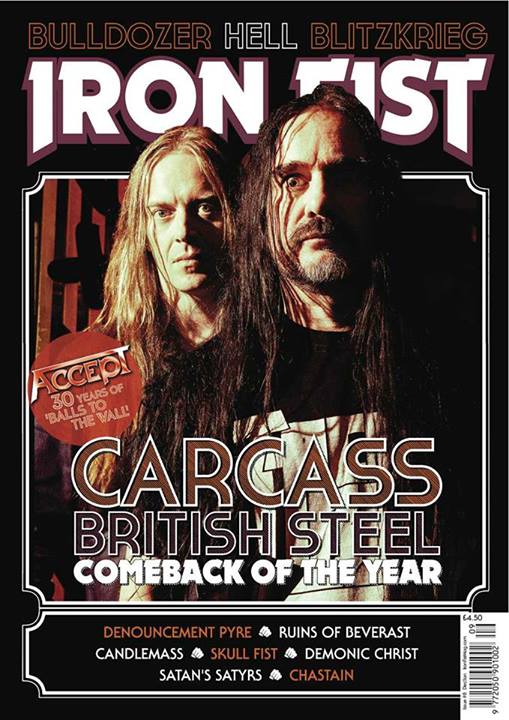 Issue 8
£6.50 / On Sale
2013. What a year!
Our first full year demonstrating the Iron Fist, it's had its highs and... actually it's all been highs. Thank you so much for your unwavering support. We finish the year as we mean to go on, with a new issue of Balls To The Wall heavy metal, both old and new.
We caught up with reanimated gods of grind, Carcass, on their European tour to talk about their first album in 17 years. The mighty Ester Segarra shot them in Japan, while Olivier 'Zoltar' Badin got a grilling from frontman Jeff Walker (not the other way round) in Paris – it's been a long and grinding road but they're a band that deserve their place on our last cover of the year.
This month also sees the 30th anniversary of ACCEPT's fifth album, 'Balls To The Wall' and Adrien Begrand gets to relive its making with Wolf and Stefan, while Damien also looks back to the time of changes with Brian Ross of BLITZKRIEG and I catch up with HELL and find out that they're looking firmly to the future, while keeping one foot in their past.
There's also features from Demilich, Bulldozer, IRON MAN, Chastain and Demonic Christ while new steel from the likes of Avatarium, Satan's Satyrs, Skull Fist, MAGIC CIRCLE and The Ruins Of Beverast get the Iron Fist treatment.
Thank you again for reading the mag this year, onwards and upwards – next year will be ever more killer
Also available digitally:
Phone
Tablet
OR PURCHASE PRINT VERSION FROM DROP DOWN BELOW