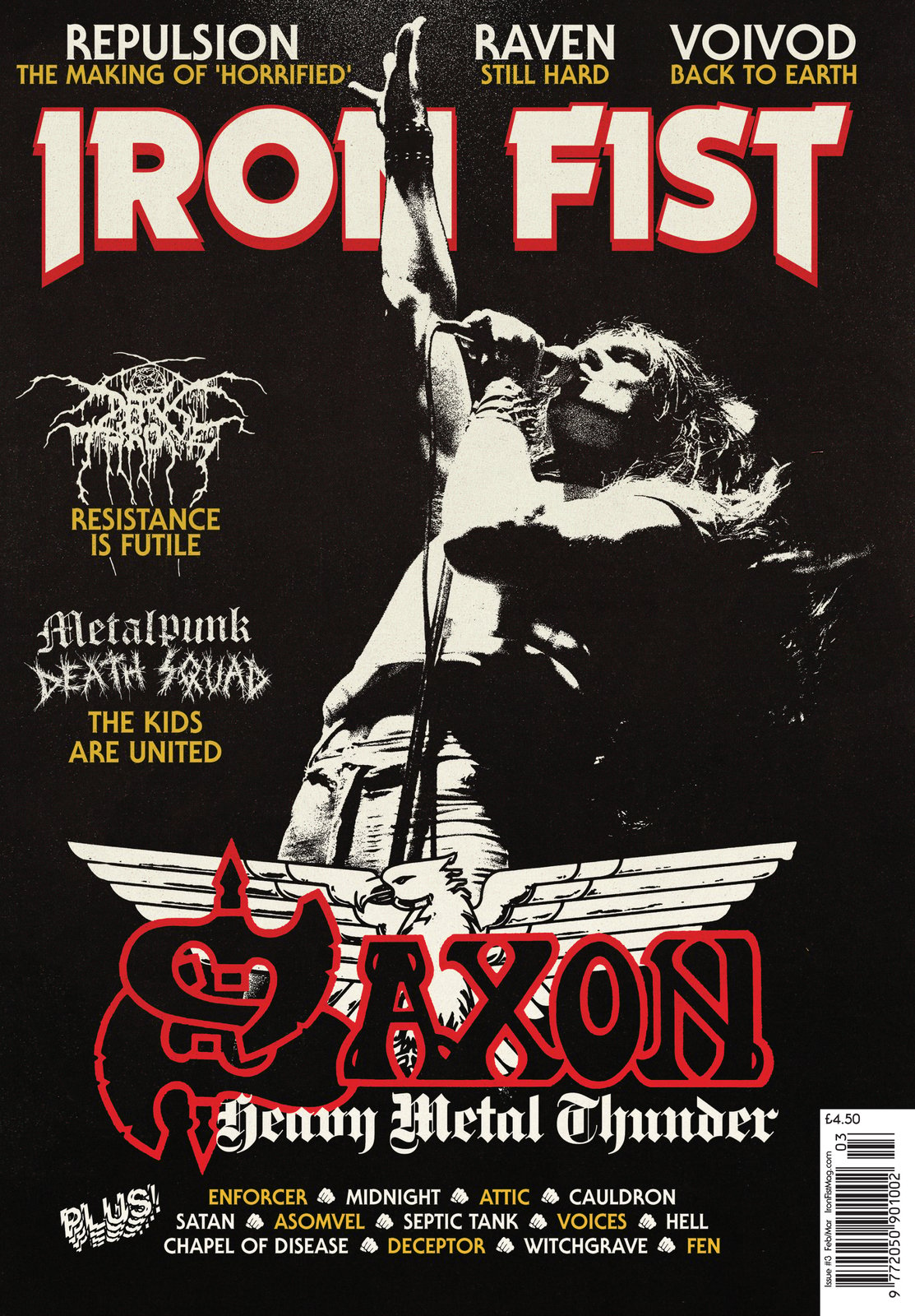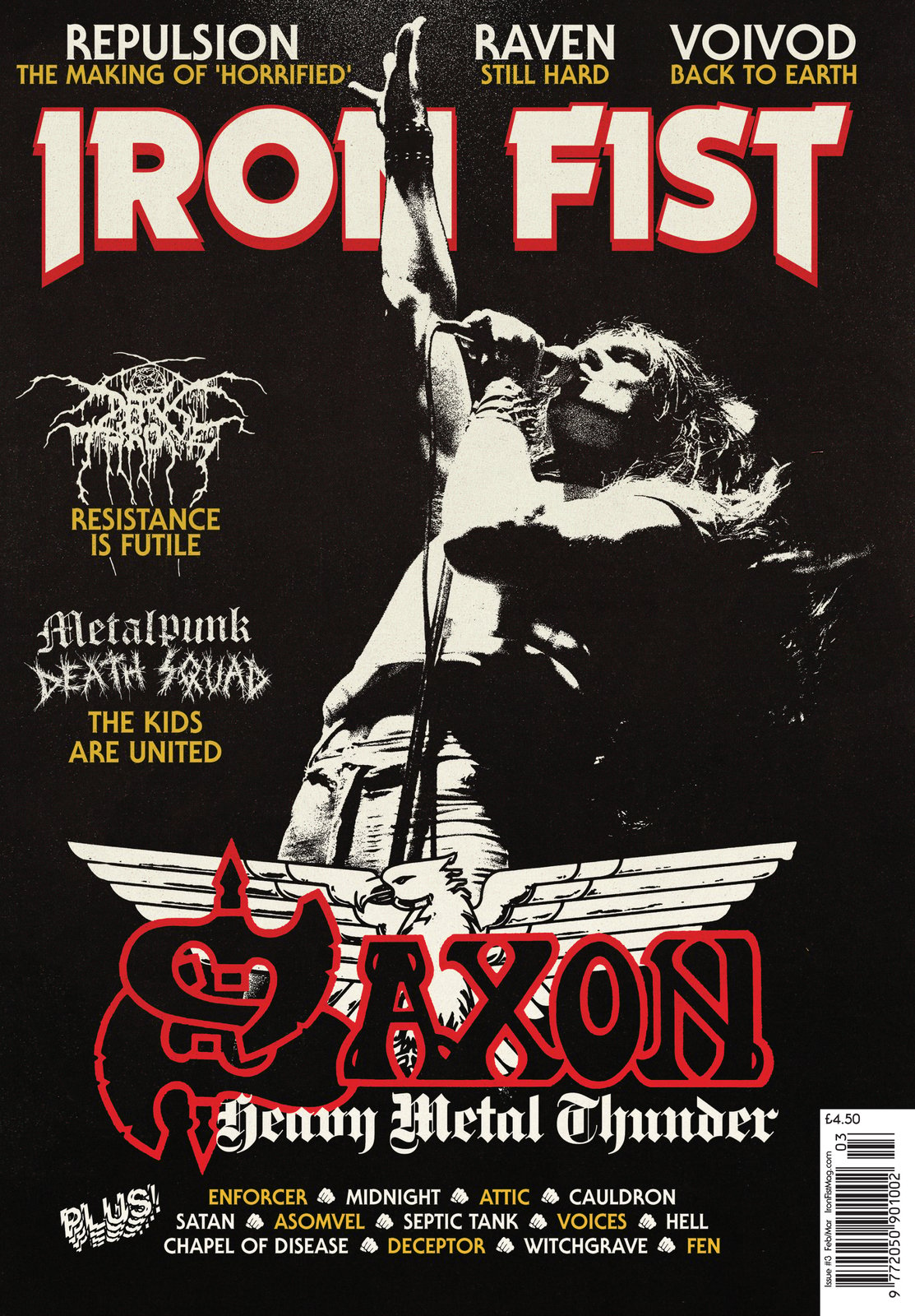 Issue 3
£6.50 - £9.50 / Sold Out
Welcome to the "difficult third issue" – difficult only because we put this magazine to bed with serious post-festive hangovers – not doing that again in a hurry!!!!
This issue of Iron Fist ended up being actually the most fun to make – and not just because we were still pissed. It had a real spirit of the blitz vibe to it, as our editor Louise and her trusted sidekick Kim knuckled down to some serious pizza eating and sub-editing all-nighters, while our designer Adam told us were we dickheads for keeping him up all night – but the dude is a legend – look at that SAXON cover! The guy's a genius. I've been editing magazines for years and reading them for even longer and that's seriously the best-looking magazine cover I've ever seen.
It was also a bit of a fluke that all the articles in this issue kinda follow the same theme – we didn't plan it, promise! You got the men that brought us all together on the cover and without knowing Ms Kelly opened her article about the METALPUNK crossover scene with that very sentiment, citing Mr Byford for opening the gates for the myriad heavy metal mergers since he sung those very words. And then talking about metalpunk, we chat to CATHEDRAL mainman Lee Dorrian about a lifelong dream of bringing his Anti Cimex inspired sideproject – also featuring Scott Carlson of REPULSION – to life and then we've got an interview with Scott about the making of Repusion's sole and soul-destroying album 'Horrified'.
Fenriz, of Norse blackened veterans DARKTHRONE, has been mixing metal and punk for aeons and has a Repulsion tattoo! And we talk to him too, not only about the new DT album but about being a heavy metal priest of sorts through his Band Of The Week blog – and so it makes sense that we also interview two BOTW inductees WITCHGRAVE and AGE OF TAURUS. In fact it was Toby from Age Of Taurus who interviewed Saxon for us… you see the full circle this magazine is going in?
It's a family affair. And talking of family we interview the brothers Wikstrand from Swedish trad metal revivalists ENFORCER about their new album, which slots nicely alongside a tour report from their Canadian brothers CAULDRON, who happen to mention serious bouts of drinking with the Enforcer boys while hitting up Scandinavia on their recent jaunt over on this side of the pond. Plus they met Biff Byford in Newcastle. Newcastle, where RAVEN are from! They're also interviewed by the one and only Damien, who's been there and seen it all – he also chats to OMEN in this issue, which by the way was part of an intros round at a pub quiz I went to at Hole In The Sky once and it was killing me 'cos I knew what it was but couldn't remember… Joseph from Enforcer saved the day by whispering 'Axeman' in my ear and POW – we totally won. I say we, Tobias from Repugnant was on my team and pretty much answered everything anyway!
Repugnant aren't interviewed, even though our designer Adam was in them, so I'm not digressing too much. What else is in this issue? Marek chats to NWOBHM legends SATAN about plans for a new album, Louise chats to HELL about their biggest show ever and Zoltar talks to Centurian about the death of Nox and Zouille from SORTILEGE about his recent projects. Kim gets the skinny on upcoming festivals DOOM OVER DENMARK and TRENDSLAUGHTER in India – in fact, we first found out about Trendslaughter on Annick's regular column World Downfall and this time she heads to Malaysia and talks to death metallers KATHGOR. We also get to find out what Annick's band CAUCHEMAR and the brilliant BLACK OATH are up to in the studio for their forthcoming albums, while Jeff Wagner looks back at the underrated genius of STILLBORN, Jeremy moans about record prices and we look forward to the upcoming GHOUL tour of the UK and the newest VOICES from the UK black metal scene. Talking about new stuff; we also have our regular Into Battle section with THRONE, CORSAIR, HERDER, DARKCORPSE, PASADENA NAPALM DIVISION, METAL GRAVE, DESOLATE SHRINE, NECROBLOOD, CORRUPT MORAL ALTAR, 13TH MOON, ALPHA TIGER and KARNARIUM.
Not content with musing over the new bands in that section, we also take a more in depth look at some of our favourite new bands of the month; ATTIC, ANGIST, CHAPEL OF DISEASE, DECEPTOR plus more from VOIVOD, FEN, SUPURATION, LIGHTNING SWORDS OF DEATH and ASOMVEL. Plus reviews, live reviews – including a double page report from Sweden's Forlorn Festival and an interview with the people behind the amazing Metal Archives website.
PRINT COPIES HAVE LONG SOLD OUT - DIGITAL STILL AVAILABLE:
Phone
Tablet